Are you a freelancer or an agency and looking for a good project management tool to run and manage your business efficiently? In this article we have discussed how you can manage all your work and keep all the information in one place, that will be easily accessible and will be available 24×7 on your WordPress website.
As the business grows it becomes difficult to keep track of all the things and things do not fit well in that cluttered excel sheet. You think of something better and secure to rely upon and get your team on board too.
When you think of such a software/tool you will find most of the services/tools available online are standalone and are difficult to manage within themselves. They are not at all integrated and you need to download or use each service independently that again demolishes the motive behind using the service to make your work life easier!
What if all the features like Workflow Control, Easy Communication, Form Builder, Ticketing Tools, Invoicing, Payment Gateway, and more comes bundled in a single piece of software? And that too as a WordPress Plugin? This is what the WordPress Project Management Plugin is all about.
Also Read: Know The Fact behind WordPress Website Security Plugins [With Proof]
Plugins are a better way of integrating various functionalities without any coding. They are easy to maintain and secure making them the best choice for anyone looking for Project Management Software.
WordPress Project Management Plugin – Projectopia
Project Management Plugin like Projectopia was designed by keeping the above requirements in mind. With Projectopia you can streamline your business process and set things in place making it less stressful and convenient when pitching for an upcoming project.
Projectopia has been the best-selling Project Management Plugin on CodeCanyon and has a maximum of positive user ratings. It consists of various useful features like Client Dashboard, Quotes, and Estimation, Adding Projects and Tasks, Adding Team Members, Generating Invoices, Logging Support Tickets, and more.
It has helped many Freelancers and Small Agencies to grow without worrying about managing or losing their leads as Projectopia is regularly updated with the latest features and security updates to keep you up to date with the industry standards.
Also Read: This is how you create Random Questions Quiz on WordPress using QSM Plugin
How to manage clients using the Project Management Plugin?
To add and manage clients on the Projectopia Plugin you need to follow the below steps:
1
Downloading, Installing, and Setting-up the Plugin
To manage clients and set up your business using the project management plugin you need to first purchase and download the plugin from CodeCanyon onto your system.
2
Adding Clients in Projectopia
Once you have set up the plugin now you are ready to add clients.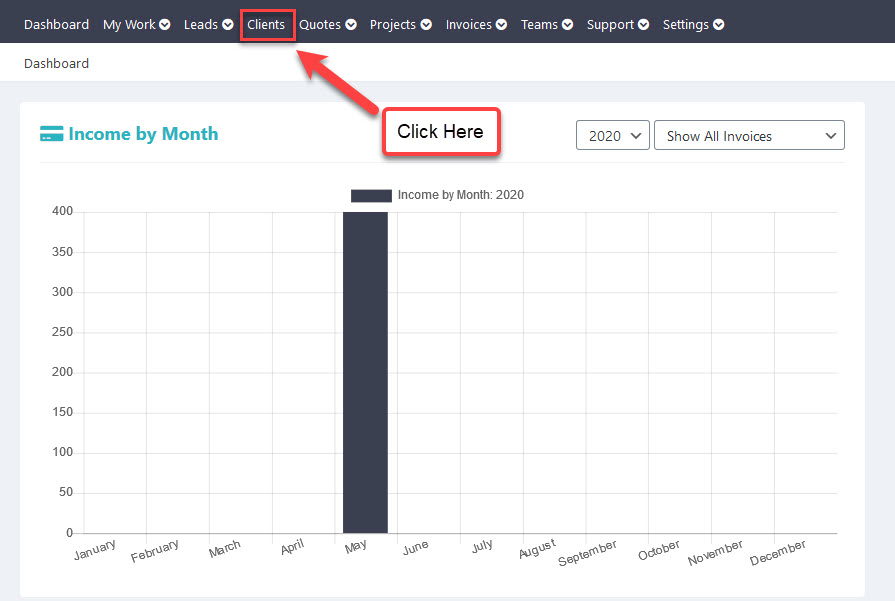 You may not exactly see the above graph as it is whereas the other depicted options like the Dashboard, My Work, Leads, Clients, Projects, Invoices, Teams, Support, and Settings will be visible.
Now, you need to hit the Clients button and then add a New Client to your project.
You will be presented with a blank form that you need to fill to add a new client. The form consists of details like the:
Add a Client Name
Add Client Notes that will include any other details which you want to note down
Add Client Number
Add Company Name
Add Main Contact Name
Add Client Address
Add Client Postcode
Add Client Telephone
Add Client Email
Add Client Alerts wherein you can display custom alerts on the dashboard regarding the client
Add Client Files it can be any type of file
Add Client Contacts
Add Client Financials including the Billing Email Address, Invoice Prefix, Client Tax Details, etc.
Add recurring invoices
Add Client Invoices
See and Monitor the list of Client Projects which includes the Project Title, Number of open tasks, Project Progress, Working Team Members, Current Status, etc.
You can also view the Client Tickets and select the default assignee
Lastly, you can view the Client Logs

This is how you add and manage a client using the Projectopia Project Management Plugin. This is just one of the many features of the plugin. To know more about the amazing features refer to the below points.
Try out this Projectopia Demo to get a better understanding of its working
Best Features of Projectopia – The WordPress Project Management Plugin
1
General Features applicable throughout the plugin
Fully Translatable (PHP gettext functions & PO/MO files)
Role based team members permission system
Currency Symbol and Position Settings
Powerful settings panel
Workflow control
Responsive front-end dashboard
Choose Projectopia Theme or your active theme
Clients can update their details and photo from the dashboard
Clients can add their team members as additional logins
Dashboard alerts for quotes, projects, invoices, and support tickets
Ability to view all quotes, invoices, projects, tasks, and support tickets
Detailed project information including timeline, updates, financials, milestones/tasks, and files
Also Read: 10+ Best WordPress Premium Themes to look out for this year!
Raise Quotes / Estimates for registered Clients
Milestone & Task Templates
Terms & Conditions Templates
Clients can accept/sign quotes from their dashboard (with name, date, and IP address recorded)
Auto-generate projects from accepted quotes
Contract signing feature (Clients can sign in their dashboard)
Ability to add team members to give them access
Milestone & Task templates – Add Multiple to projects
Multiple invoice options (Per milestone or upfront/completion split)
Task management
Task Progress bars
Personal or project tasks
Start dates and Deadlines
Task Status and Priority
Task file uploads
Task watchers
Task Messaging
Email Piping (Reply to task messages via email)
Tasklist in Team Dashboard
Sales Tax & Secondary Sales Tax available
Stripe and Paypal payments
Partial Invoice Payments
Manual payment entry with notation and payment date
Send Invoice and Reminders in a single click
Attach PDF Invoice to emails
Settings for when reminders are to be sent
Downloadable PDF Invoices
Multiple Invoice Designs
Custom Invoice Fields
Add your team members and assign roles
Team members can only see assigned projects and their own tasks
Tailored Admin dashboard showing outstanding assigned projects, tasks, tickets, etc
jQuery task timers
Admin & Client can raise support tickets
Email Piping updates
Ticket Status and Priority
Ticket watchers
Milestones, Tasks, and Invoicing
"Seen" updates on ticket responses
To know more about the plugin's features follow the link: Projectopia Full Features List