Projectopia – Project Management plugin for WordPress gives you a convenient way to keep all the important information in one place in your own WordPress website.
It incorporates project management, time tracking, task management, and other appropriate features for making your project management simpler.
The Project Management WordPress Plugin allows you to centralize, store and manage all the crucial information related to the projects of your business/company in a single place so that it becomes easily accessible.
The Projectopia WooCommerce Integration Plugin allows you to link a specific WooCommerce Product to one of the Milestone / Task Templates. When a customer purchases a product that is linked to a specific Milestone / Task Template, then a project will automatically be created in the system using that template.
In this article, we will learn how you can set up the Projectopia WooCommerce Addon so that when a user purchases the said product, automatically a project gets created and assigned to the selected team members.
Before learning how to attain this functionality on your WordPress, we will first find out what exactly is the Projectopia Project Management Software and why one needs to use it?
What is Project Management Software? and Why you should have one?
Let's face it, managing a small business is tough! Most of the clients lead fast-paced, hectic lifestyles and don't have a lot of time for work that doesn't directly impact the bottom line.
Without proper project management, your projects face the risk of miscommunication and overlap. Instead, they will need to find a new home on your calendar, which can be tough when you're running several projects at once.
Also Read: How to Add Mailchimp to WordPress? [5 Easy Steps-2022]
Some small business owners might think that advanced technologies must only be used by big companies to handle projects. But it is not true, one reason why people think this way might be because many operations in small businesses are short-term and are carried out only by a single individual or a very small group.
However, it might be fairer to assume that a large number of businesses have been successful because they have the right resources for managing all of their businesses.
This is where the need for Project Management Software kicks in. Project management software is of the best ways to organize tasks and facilitate planning. With this tool, you can set up deadlines and identify dependencies with all the work assignments. In addition, it enables you to track who has finished what tasks or not by assigning roles.
Projectopia is one such Project Management Tool designed for WordPress. Projectopia is designed keeping in mind the needs of freelancers and small businesses.
This easy-to-use software is perfect for individuals and businesses who are looking to start managing their projects effectively. The plugin is loaded with tons of useful features designed to help users manage, organize and scale their business. It's the number one selling project management tool on CodeCanyon and has been tried and tested by thousands of users.
Projectopia includes features like Quote and Lead Forms, Online Payment Gateway Integration, Automated Invoicing, Tasks with Timers, Form Builder, Workflow Control, Client Dashboard, and many more. In simple words, Using Projectopia you can streamline your business process and get maximum productivity.
Brief Introduction to the WooCommerce Addon
Taking a simple, streamlined approach, the WooCommerce Addon is designed to be as easy to use as possible. Everything can be run from one page. This is how it works: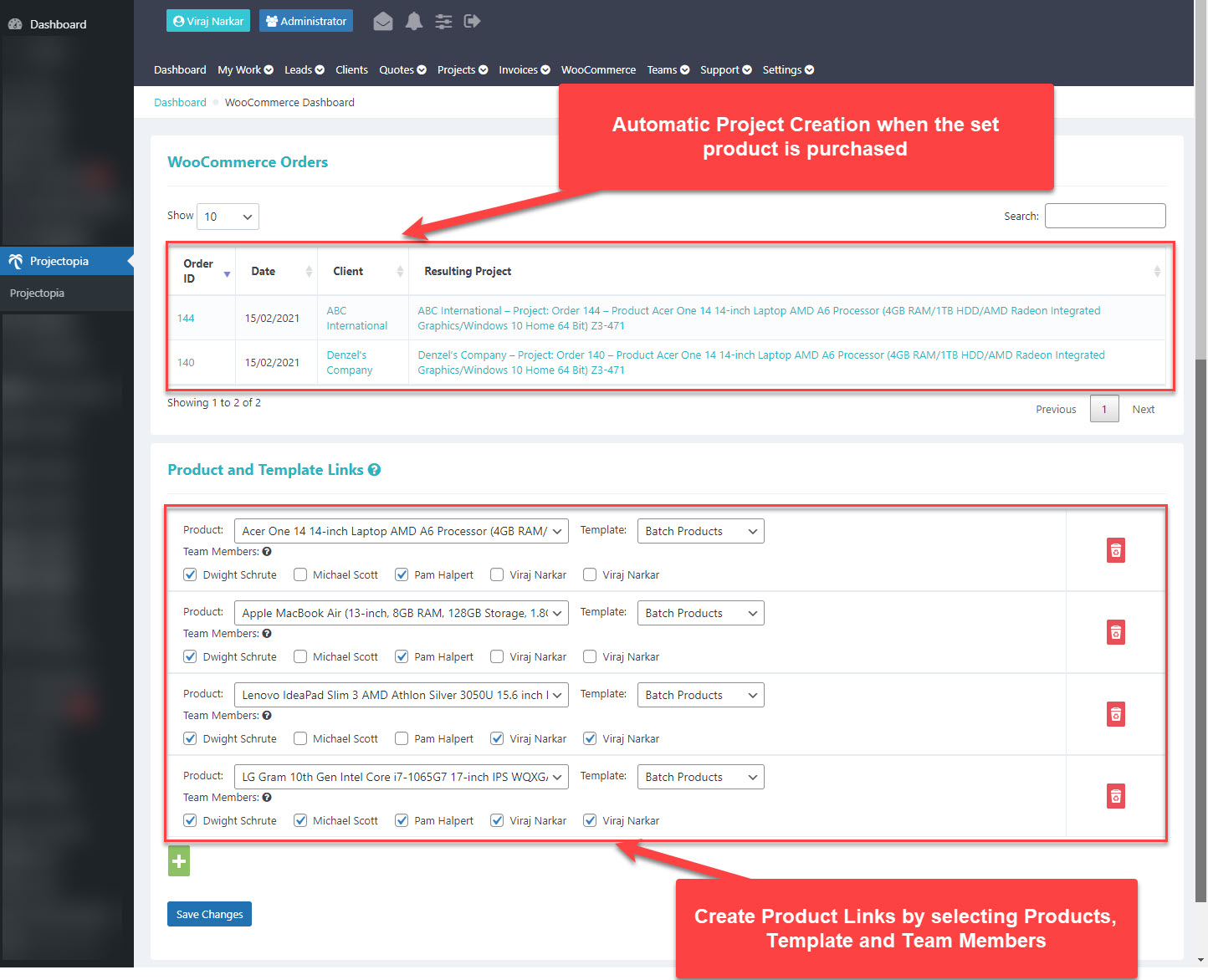 When a user generates an order from the front-end via. WooCommerce, the plugin spring into action and checks if any of the ordered products match with the ones linked in the WooCommerce Addon.
If the plugin finds that the said product is linked and if it successfully matches the linked product then it checks if the email address on the orders exists in the system as a PTO Client or not.
Also Read: Protect Your Website From Malware and Hackers Using the Best WordPress Security Plugin
If the email exists then the resulting project will be created and assigned to the existing client, if not the client will be created and assigned the project.
Steps to Integrate WooCommerce with Projectopia
1
Install the Projectopia Plugin
If you haven't already then you must first install the Projectopia Plugin in order to get the Projectopia WooCommmerce Addon working.
Projectopia can be purchased from CodeCanyon for a mere $49. It is the best investment that can actually help you to be more productive and help save time managing different projects.
Once you download the Projectopia Plugin you need to install it on your WordPress. Here's how you can install the Projectopia – WordPress Project Management Plugin.
After Installation, you will need to activate and set up the Plugin. Setting up the plugin is very simple. You will be guided through the setup instructions. Here's an article explaining the guided setup tour of the Projectopia Plugin.
2
Install Projectopia's WooCommerce Addon
The WooCommerce Addon can also be purchased from Code Canyon, This addon can be purchased for $29. The Projectopia WooCommerce Integration Addon works closely with the Projectopia Core Plugin.
This add-on enables you to generate clients and projects from pre-defined templates when a user completes a WooCommerce order. You need to install and activate the downloaded plugin just like any other WordPress Plugin.
3
Setup the addon to Products and Template Links

Once you have activated the plugin you will see a new tab named WooCommerce added to the menu list of the Projectopia Admin Menu. It is here that you need to perform all the configurations.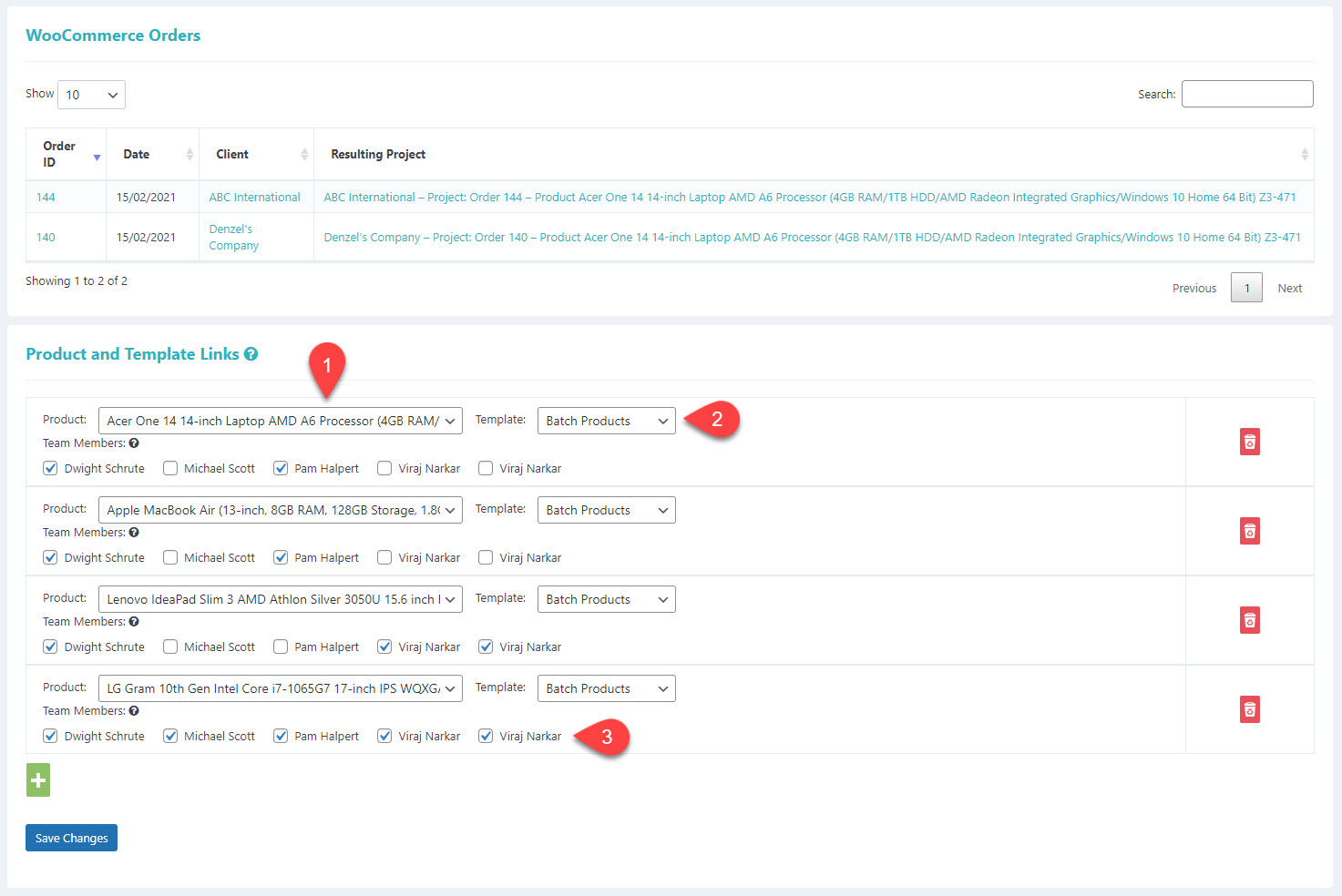 Choose a product from the list of WooCommerce Products
Choose any of the existing templates
And, select which team members you want to be added to the generated project
And, you're good to go!
Orders that contain more than one linked product will apply the templates for each linked product in the list. You can add as many product links as you like.
Also Read: How to Add Menu in WordPress? 3 Useful Methods You Must Know!
NOTE: You need to have existing Milestones Templates else the Template Drop-Down will remain blank. To create Milestone Templates navigate to Projects > Milestone / Task Templates > New Milestone Template.
Conclusive Thoughts
This is how you can integrate Projectopia Base Plugin with WooCommerce using Projectopia's WooCommerce Addon.
Likewise, Projectopia also has many more integrations and add-ons that will help you ease out a little bit and attain the required functionality quickly without much fuss.
Or, get the Projectopia WP Project Management – ULTIMATE VERSION. It is a fully-featured Project Management Solution, incorporating the #1 Best Selling Projectopia Core Plugin and all add-on plugins for a single price point – $99.